The camera pans into Ravenous's room where the place becomes neat and tidy unlike last week ago. Then there's a man named Ravenous
He was bind with steel handcuffs and was sitting on the table where a potable phonograph and a vinyl album "L'Apocalypse des animaux" lay on the table as the device plays the same song as the one's on his last birthday.
Guard:
Ravenous, you got a visitor. You must prepare and get yourself dressed. Your sentence will be few hours left to go now.

Ok, sent him in.
The door is open and a visitor turns out to be Fione holding a basket. In response, Ravenous was surprised.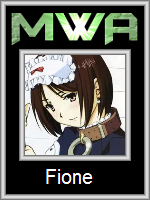 Oh, Fione. Please sit down, you must be exhausted.

I think it's time for your last make-up.
Fione goes close to Ravenous as she begins to put Ravenous some make-up.

So, this is going to be the last time to meet each other.

I'm afraid so, I can't believe it went happen so fast. First, my parents horrible death. Second, my disturbing depression. Third, Jeffrey. Then, Hunter's denial. Finally, my first lost. I thought I have odds to beat Angel now that I'm going to be tougher when it comes to pain but I think what's the point of it, Angel is more skilled than me and I think the most proficient one can only survive. That's why the fate smiled upon Angel and it's said to me that it's about time..... to the point that I'm too worthless to live, so they all wanted me to die.
Fione begins to shiver and pale upon hearing his words

On the bright side, I can join my parents... in the afterlife...... for all eternity.
Fione suddenly throws a makeup she just held and begins to show her sadness

Why...... are you saying like that? Why.... you were positive to this? WHY? I thought you were going to say "I don't want to die". Why are you saying that no one loves you, YOU IDIOT?!
Fione pounds to the wall and she sheds tears into her face as Ravenous is puzzle of her erratic action

(shouting)
I don't want to admit this but Jeffrey is right! I have feelings for you! For past seven years since we first met, we've been side by side together ever since. We used to have fun spending and living our time together as if we are couple. Of all the past you have mentioned in the past, I was there to cope your remorse. And now that we've just found someone who broke our connection, you now just giving up and saying those disgusting words to my face?! Don't get it? Well saying it again, I love you Ravenous! You stupid numb skull!
Ravenous astonishes and his face goes red as Fione begins to speak slowly

For I thought, you just....
Fione wraps her face with both hands and cries as Ravenous approach to her and gives her a handkerchief. Then Fione grabs it and uses it to wipe her tears

That's the Fione I know! Just till you know, I don't want to die either, but is there anything I can do? Anyways, thank you, Fione. For seven years I've spent with you it was worth to live for.
Fione hugs Ravenous as she cries. Meanwhile somewhere in the backstage, the same lady from last week walks towards Ravenous's room.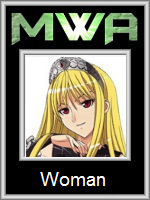 As she was about to enter, the guard interrupts her way with his suspicious look on his face
Guard:
What do you want?
Oh please, I'm here as a visitor. If you want gold, I have some.
She hands her gold as the guard begins to accept her request.
Guard:
Okay, which reminds me!
The guard opens the door
Guard:
Okay girl, time's up.
In response, Fione walks out the room with grief and tears. Upon seeing this, the lady shocks as she is getting to feel like she knows her.
Guard:
Okay, you're up!
Excellent!
The lady enters the door as the guard closes it. The camera fades out.
OOC: You got me, Magnus! You caught me red handed
OOC: it was inevitable




Posts

: 13


Join date

: 2015-04-17



OOC: Dang, I shouldn't watch romantic anime.


Similar topics
---
Permissions in this forum:
You
cannot
reply to topics in this forum